The Music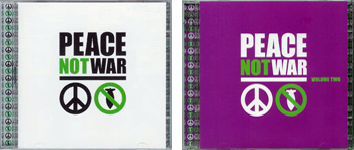 These CD collections are intended as platforms for musicians to deliver creative responses to war and to raise awareness amongst the general public about global peace issues. In addition, the Peace Jukebox plays hours of anti-war music from the CDs and other material for free.
Volume One features Public Enemy, Massive Attack, Ani DiFranco, Ms Dynamite, Asian Dub Foundation, Yo La Tengo, Billy Bragg, Sleater-Kinney, Roots Manuva, Alabama 3, Midnight Oil, Crass, Nitin Sawhney, Fundamental, Chumbawamba, Seize the Day, The Mark of Cain, Life, Slovo, Pok & the Spacegoats, Stephan Smith feat. Pete Seeger & DJ Spooky, Coldcut feat. Saul Williams, Sia, The Unpeople, John Lester, GM Baby, SuparNovar, Bindi Blacher, DJ DisOrientalist, Torben & Joe, Laszlo Beckett and Change.
Volume Two features Sonic Youth, Jane's Addiction, Ani DiFranco, Faithless, Jurassic 5, Michael Franti & Spearhead, Le Tigre, Propagandhi, Paris, The Evens, Banco de Gaia, Anti-Flag, Lyrics Born feat. Lateef, Maya Jupiter, The Herd, Lifesavas, Hamell On Trial, Karma Sutra, Liquid Blue, Taskforce feat. Braintax & Rawdog, Sara Marlowe, Brad Postlethwaite, Free*land, Gertrude, Visionary Underground, Ghetto Priest, Robb Johnson, The Rub, Martha Tilston, Carpetface feat. Freefall Collective, The Unpeople, GM Baby feat. SuparNovar, Angel, The Kelly Gang, Saritah, Son of Nun and Train of Thought.
The redefinition of protest music for the 21st Century and its new wars.
The Jukebox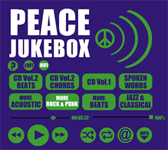 Songs written during the Bush Presidency and featured on the two PNW CDs (along with others not featured on the collections) can be heard on the Jukebox as high-quality MP3s, with lyrics. The jukebox can be listened to in Hi-Fi (96kbps - broadband) or Lo-Fi (24kbps - dial-up modem). It can be enlarged to make it easy to read, or shrunk down as a little MP3 player.
Click here to go directly to the Peace Jukebox. If you can see an animation in the new page, the Peace Jukebox will work automatically on your computer. If you don't have Flash Player 6 or above, you will have to download it from Macromedia.
The Peace Jukebox features anti-war songs by Sonic Youth, Beastie Boys, Jurassic 5, Public Enemy, Jane's Addiction, The Cure, Ani DiFranco, Black Eyed Peas, Green Day, Faithless, Michael Franti & Spearhead, Lenny Kravitz, Paris, System of a Down, Propagandhi, Banco de Gaia, Zach de la Rocha, Noam Chomsky... hiphop, rock, punk, acoustic, classical and spoken word.
More anti-war/pro-peace music will be added in the future.
Peace Group Search Engine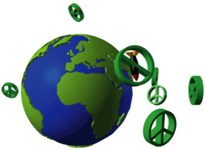 PNW's website features a Peace Group Search Engine that acts as a very effective resource for the global peace movement.
It features listings for groups working for social justice, to end war and bring about peace from right across the globe - with thousands of listings from Europe and North America, and hundreds more from across the majority world and elsewhere. It includes many listings of Japanese groups, with full contact information wherever possible.
PNW Live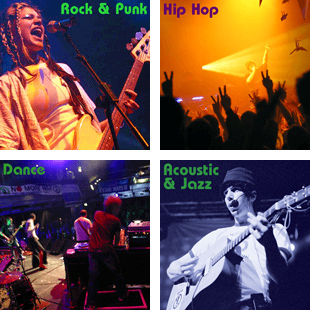 PNW have held many live events with artists that support the peace movement in general and the issues behind PNW.
The largest of these events was a 4-day festival in London in 2004, during the first anniversary of the biggest simultaneous human action ever when, on Feb 15th 2003, over ten million people in 150 cities world-wide held peaceful protests to demonstrate their desire for peace, not war.
With over 70 bands playing on two stages, many guest speakers, an art exhibition and a cinema, this Festival was the biggest anti-war arts event ever in the UK. Click here to find out more information about the festival and the featured artists.
Supporting the Peace Movement
In addition to these important goals, the CDs have proved to be a very effective fundraising tool. They have been either donated or sold at heavily discounted prices to a huge variety of different organisations that are working to end war and bring about peace. Preferences have been given to under-funded grassroots organisations who organise either non-violent direct action or traditional marches, demonstrations and educational events. So far, these compilations have raised over $100,000, which has been distributed to a wide range of groups across the globe.
These include 9/11 Co-Operative Research, Active Resistance to the Roots of War, Americans Against the War, ANSWER, Campaign Against the Arms Trade, Campaign for the Accountability of American Bases, Colombia Solidarity, Campaign for Nuclear Disarmament (CND), Disarm DSEI, Global Exchange, Globalise Resistance (national + local), Grassroots Opposition to War, Indymedia AntiWar Show, Iraqi Children's Fund, Lakenheath Action, Movement for the Abolition of War, National Network to End the War Against Iraq, Network for Peace, New Internationalist, Palestine ISM, Reclaim the Bases, Resist Bush, Rising Tide, Schnews, SOAS AntiWar, Stop the War Coalition (national + local), Student CND, Trident Ploughshares, United for Peace & Justice, Victorian Peace Network, Voices in the Wilderness, Wombles, and Women in Black.
Further Information
For more information about Peace Not War (UK), please go to:
www.peace-not-war.org or www.peace.fm